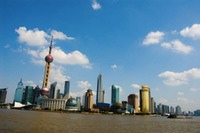 NYU Shanghai is China's first comprehensive liberal arts and sciences research university to be launched in partnership with an American  university.  
NYU Shanghai will be the third "portal campus" within NYU's global network of 14 portal campuses and 11 study-away sites.  It will begin teaching undergraduates in 2013.
I will serve as the founding vice chancellor of NYU Shanghai.  More details can be found in this Press Release.